This Saturday, my alma mater,
St. John's
, faces
St. Thomas
in a key football game that will likely decide the MIAC title. More importantly, it's a renewal of the
Tommies-Johnnies
rivalry, which has been playing out on the football field since 1901.
Students of both schools use the game as a prime chance to mock the other institution. St. Thomas students love wearing crude T-shirts that often reference the fact St. John's is an all-male school, and if it's only guys there at the secluded university in the middle of Minnesota, and there aren't any girls around, then, wink, wink, nudge, nudge, the students at St. John's are...well, you know. Wink, wink. Nudge, nudge. No one ever accused St. Thomas grads of having the comic subtlety of
Steven Wright
.
To counteract those barbs, St. John's students sometimes sport shirts that politely question the beauty of St. Thomas's female students, while also predicting fine futures for Tommie grads that will likely include tours of duty behind the counter at various fast-food franchises.
On the field, St. John's almost always wins. The Johnnies are unbeaten against St. Thomas since 1997, and St. John's is a perennial national contender, led by
John Gagliardi
, college football's
all-time leader in victories
. Most years, St. Thomas is nothing but a purple punching bag, more prop than competitor.
Tommies hate Johnnies and Johnnies hate Tommies. Oh, we hate those swell Tommies. Generation after generation of graduates learn those lessons, and they're nearly as important as anything their professors teach in business class or a chemistry lab.
Ultimately it's all pretty harmless, although there are those who really do get worked up if a child chooses to go to a different school than the parent. But, like most rivalries, especially in college, it's all fairly ludicrous. Rationally, it hardly makes sense for there to be any disdain, as the schools are the same in countless ways.
They're both Catholic institutions, but both schools have many students from other faiths. Both have stringent Catholics and those who can already be called "lapsed." St. Thomas is named after St. Thomas Aquinas, while freshmen at St. John's live in Tommy Hall, also named after the favorite theologian of Catholics everywhere. There, as first-year students, they're indoctrinated into why even God agrees it's all right to hate St. Thomas - the school, not the man. Maybe that was part of my problem. As a transfer student from a community college, I never got the early propaganda and only built up a dislike over two years.
Average class size? 21 at St. Thomas, 22 at St. John's (score one for the Tommies). The student/faculty ratio at St. John's is 12:1, compared to 15:1 at St. Thomas (score one for the Johnnies).
Many who attend St. John's seriously considered St. Thomas, and vice versa. For many, including myself, it's the location of each that helps seal their decision. St. John's is located in Collegeville in central Minnesota, situated in peaceful surroundings, with woods and water providing picture-perfect moments.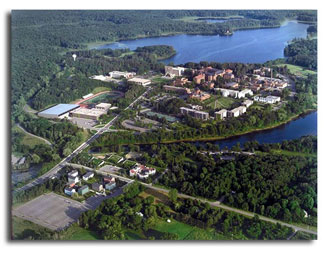 St. John's seemingly exists in its own world, about 70 miles from the Twin Cities. St. Thomas, meanwhile, calls St. Paul home, perfect for students who prefer their college life in a real city, giving them the types of opportunities unavailable to the St. John's kids going to school in the country. The odd thing about many St. John's people who denigrate the city existence of St. Thomas is that many come from the Twin Cities, while those who ridicule the isolation of St. John's now that they're Tommies are veterans of the rural life.
And St. Thomas - the largest private university in Minnesota - has nearly 11,000 students in its undergraduate and graduate programs while St. John's has an enrollment of 4,000. That's the enrollment with its sister school, the College of St. Benedict. While St. John's is, indeed, still an all-male school, in many ways that's in name only. They're partner schools. Men and women share classes, libraries, campuses, and carnal relations.
St. Thomas and St. John's have much in common, siblings nearly themselves, right down to the nicknames of each. Add an extra consonant and "ies" to the end of the name and slap it on the uniforms. Disliking one just because you go to the other seems almost like an act of self-loathing. But then, it's like that with so many rivalries. Harvard-Yale. Michigan-Ohio State. Army-Navy. The similarities of the schools and student bodies dwarf any perceived differences.
St. John's hating St. Thomas is like America considering Canada to be its biggest rival and most dangerous threat.
What's a real rivalry? With real reasons for hatred? How about the
India-Pakistan cricket battles
? Here you have two nations who threaten each other with
nuclear destruction
. When the athletes meet - Hindus vs. Muslims - it's for a bit more than
bragging rights.
"The phrase sporting event can't begin to contain the religious extremism, unforgiven deeds and rabid jingoism that swirl around each India-Pakistan cricket match; the game is haunted by battle dead, and the air is charged with the ongoing dispute between the two countries over control of Kashmir."
Yeah, but do the fans wear T-shirts with witty sexual innuendo?
So, rationally it doesn't make sense for St. John's and St. Thomas to be such rivals. Where's the enmity come from, and why?
But this is sports and specifically football and rational thought doesn't have much to do with it. I see the purple of St. Thomas and my stomach churns, even if in high school I did contemplate what life would be like on the St. Paul campus. I listen to a St. Thomas graduate and I hear an arrogance that seems unique to Tommies. I see their T-shirts and read their insults about St. John's and pity the thinking that passes for creativity at St. Thomas.
If St. Thomas actually does what it never does and beats St. John's this Saturday it will ruin part of my day, in a way a loss to any other team wouldn't.
It's illogical, nonsensical.
In the end, that doesn't matter. It's the Tommies, and they're not Johnnies, even if they are alike in so many ways. It's the Johnnie-Tommie game, with the winner being the favorite for the conference.
A rational rivalry, no. But what fun would that be?