Michael Jordan earned some headlines last week when a
USA Today
story quoted him as saying, "It's less physical and the rules have changed, obviously. Based on these rules, if I had to play with my style of play, I'm pretty sure I would have fouled out or I would have been at the free throw line pretty often and I could have scored 100 points."
It's absurd to think Michael Jordan could score 100 points in an NBA game today. Then again, he is 47 years old.*
* This punchline has changed over the years, but, depending on the sport and the person's respective age at the time of the joke, has been used to praise the talents of: Ty Cobb, Stan Musial, Hank Aaron, Bill Russell, Wilt Chamberlain, Harmon Killebrew, Willie Mays, Julius Erving, Elgin Baylor, Joe DiMaggio, Nolan Ryan, Jerry West, Walter Payton, Joe Montana, John McEnroe, Rod Laver, Kareem Abdul-Jabbar, Johnny Bench, Bob Gibson, Oscar Robertson, Ted Williams, Mickey Mantle, Yogi Berra, Magic Johnson, Larry Bird and any other player who averaged 20 points at least 20 years ago or hit 40 homers 40 years ago.
Jordan also said, when talking about Kobe Bryant's place in the NBA history books, "He is always going to be within the conversations of some of the greatest players who've played by the time he is finished. Where does he rank among those, if you are talking about positions? If you are talking about guards, I would say he has got to be in the Top 10."
Jordan took some heat from certain vocal segments of Lakers Land for the Kobe comment, as people interpret the line - probably rightfully so - to be a bit of a tweak. Many people put Kobe among the top 10 players of all-time, while Jordan's saying you've "got to" make him a top 10 guard, as if he's fighting for the No. 9 spot on that list with Mitch Richmond while still trailing Reggie Miller and Nate Archibald. Still, it's a pretty harmless comment. Besides, how much credit does anyone want to give the talent judgments of the man who drafted Kwame Brown with the first pick in the draft and Adam Morrison with the third?
Back to the 100 points thing. It's the type of claim retired players occasionally like to say and fans love to trumpet and there's no harm in the bragging or defending of it, primarily because it's impossible to prove or disprove. There are many reasons to think Jordan's finally fallen victim to 25 years of hype. For example, the most he scored in a game was 69 points and that came in overtime. Would rule changes and tighter calls on hand-checks provide him with 31 more points? Seems doubtful.
Bryant has proven superior to Jordan in at least one way: his offensive explosions are even more unbelievable than Jordan's. While Jordan still sports a superior resume - especially when it comes to, say, playoff scoring - Bryant's ability to put up a lot of points in a short amount of time is unmatched - by Jordan or anyone else, including Wilt.
Here's Kobe scoring 42 points in the first half against Jordan's Wizards, including 40 in the first 19-and-a-half minutes.
A year earlier, Bryant scored 56 points through three quarters against Memphis and sat out the fourth. Against Seattle in 2003, Bryant made an NBA record 12 3-pointers in a game, including 9 in a row. In the 2006 season, he scored 62 points through three quarters against Dallas and sat out the fourth (he led the Mavericks 62-61 at the time). And, most famously, he scored 81 points against Toronto, including 55 in the second half. They're the type of numbers no perimeter players in league history can match.
And as dominant as Bryant's been in those games, and as explosive as he can be, and with as many free throws he gets thanks to tighter rules...he still came up 19 points of 100. Now maybe against the Mavs he could have scored 85 if he'd played the fourth. Maybe, perhaps, if Phil Jackson let him fire away and the Mavericks didn't triple-team him on every possession, he might have scored 90. But still...that would have been 10 short.
Michael Jordan scoring 100? Probably not. But many people agree with him - or at least with the sentiment that Jordan would dominate even more today than he did in the 1990s - because it's always fun to downplay the accomplishments of the current players or the current state of the game and talk about how tougher things were in the past, when men set bone-crushing screens and defenders manhandled dribblers. The only thing missing from Jordan's line is, "Back in my day..."
Still, it's hard to fault Jordan for still being confident in his abilities. Athletes need that cockiness to thrive at any level. Just think how much you need to be considered the best who's ever played. Why would that self-confidence disappear as the weight goes up and the vertical goes down?
For the most part I enjoy grouchy older athletes. As annoying as it can be listening to people talk about how things were always better in the past, it's just as bad listening to people talk about how yesterday's stars couldn't compete in today's game. Let the old guys complain a bit, let them relive the glory days.
My favorite example of this was Jim Brown.
Sports Illustrated put him on the cover
in 1983, when he was 47 years old.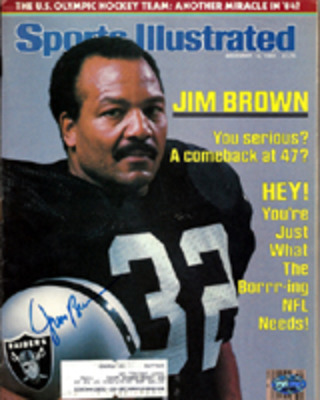 In the story, instead of talking about what he would have done if he played in the NFL in 1983 as a 24-year-old, he talked about what he could do as a 47-year-old. Franco Harris threatened Brown's career rushing record at the time and Brown didn't like that Franco occasionally ran out of bounds instead of taking a hit. "I have more important things to worry about. I may not come back, but I will if people don't admit to the fraud that's being perpetrated." Don't you make me come back, Brown seemed to say. Sadly, this did not happen, though Al Davis recently heard about Brown's old plan and briefly considered signing the 74-year-old to a one-year deal.
Jordan and Brown, two of the best athletes in American history. They earned the right to talk about how much better they were than athletes in the past and the present. And it's not just legends or even pros who sometimes feel the need to build up past accomplishments when watching games today. Last time I watched the JWP boys basketball team play, I thought, Man, I could score 25 a game playing with these longer halves and with this team and against these opponents.
That's absurd, of course. I could never do that in today's game. Then again, I am 35 years old.